Village in Sardinia with pets allowed: L'Isola dei Gabbiani welcomes your 4-legged friend
Are you looking for an holiday village in Sardinia where dogs are also allowed, to spend your holiday with your 4-legged friends? Isola dei Gabbiani, our Village a few km from Palau, is the ideal place for you!

We welcome your pets, provided that you present of course a valid International Certificate of Vaccination at the check in. Dogs can also access our accommodation, always in respect of those who will use them after you (in this regard you can read our General Conditions), allowing you to have fun together and not give up the company of your precious friends, especially on holiday.

Are you on holiday in Sardinia with your dog?
Now that you have found the right place for your holiday in Sardinia with your four-legged friends, we suggest something to do.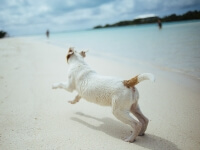 Beaches for pets in Northern Sardinia

If you love the sea, you can take your pets to the equipped beaches along the coast: in Sardinia there are now several beaches for dogs where you can find suitable services to accommodate animals and take long walks with your puppies. In the area where our pet friendly village is located we recommend you:
Bau Bau Beach in Punta Negra (Palau)
Doggie Beach in Sant Teodoro (Costa Caddu)
Porto Fido - Porto Quadro beach (Santa Teresa di Gallura)
Ira beach (Loc. Porto Rotondo - Olbia)
Sardinia, however, offers not only the sea, but also a hinterland full of trails and nature trails that you can explore with your dog. Gallura and in particular the area of Isola dei Gabbiani is a wonderful territory that will give you soothing walks and breathtaking views, as well as the opportunity to participate in dog trekking and excursions accompanied by your dog, now organized throughout the island.
Holidaying in Sardinia with a dog is therefore no longer just a dream: book at our Village Isola dei Gabbiani and with a small daily supplement you can enjoy this paradise in the company of your four-legged friend! Discover now all the available offers!